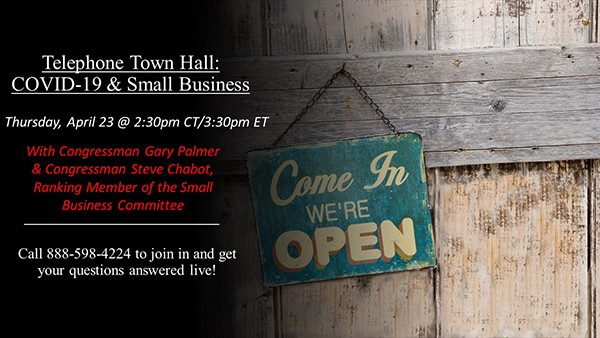 Congressman Gary Palmer will host another tele-townhall at 2:30 p.m. Thursday, April 23rd, for small business owners and elected officials from Alabama's 6th Congressional District. To participate, please call 888-598-4224.
Join Congressman Gary Palmer Tele-Townhall this Thursday
Joining Gary on this call will be Ohio Congressman Steve Chabot, who represents Ohio's 1st Congressional District and is the Ranking Member of the House Committee on Small Business.  The Committee on Small Business has the specific responsibility to oversee the wide-range of challenges facing small businesses.
Regards –
Ray
 
Ray Melick
District Director
Congressman Gary Palmer (AL-06)
3535 Grandview Parkway, Suite 525
Birmingham, AL  35243
Ray.Melick@mail.house.gov
(205) 968-1290
(205) 968-1294 fax